Portable battery powered stereo microphone preamp / Préamplificateur microphone stéréo portable à piles
Product description - ENGLISH
Dual high gain/low noise mic preamp (+10 to + 64dB)
48V phantom powering
80hz 12dB/oct high pass filter
Bright OLED screen (sunlight readable)
2 mic inputs on XLR3 connectors
Balanced line level output on XLR5 connector
High quality audio potentiometers
Superb powder coated and engraved aluminum enclosure
Lightweight – small footprint
Power efficient ( 6 hours autonomy with 2 Schoeps CMC64Ug)
The AUDIOROOT FEMTO is a high quality battery powered mic preamp that was designed for location sound recording ( ENG, EFP, music, etc…). It combines in a single box a high gain – low noise microphone preamp with 48V phantom powering, a 80hz 12dB/oct high pass filter and a beautiful OLED screen for audio and battery level information display. The FEMTO was designed to resist over time and against the harshest environments. The FEMTO's premium electronics are protected by a lightweight powder coated aluminum extruded enclosure. Markings are directly engraved on the aluminum face panels to resist over time. The AUDIOROOT FEMTO is a high gain mic preamp with a default minimum gain setting of +10dB.
Weight (without batteries) : 327g
Dimensions : 95 x 129 x 42mm (l x p x h)
Powering: 2 x 9V batteries (type 6LR61) or external (12-18V)
A balanced line output cable XLR5 -> 2 x TA3F) is included for every purchase of an Audioroot FEMTO
Recommended external 100-240V PSU (not included) : MEAN WELL GE12I18-P1J
Description produit - FRANCAIS
Double préamplificateur faible bruit/haut gain (+10 à + 64dB)
Alimentation phantom 48V à haut rendement
Coupe-bas 80hz 12dB/oct débrayable
Ecran OLED couleur lumineux (visible en exterieur)
Entrées micro sur XLR 3 broches
Sortie niveau ligne symétrique sur XLR 5 broches
Potentiomètres haute qualité
Superbe boitier en aluminium extrudé et gravé
Léger – peu encombrant
Grande autonomie ( 6 heures d'autonomie avec 2 microphones Schoeps CMC64Ug)
L' AUDIOROOT FEMTO est un préamplificateur portable auto alimenté de grande qualité conçu pour l'enregistrement de terrain (musique, cinéma et documentaire). Il combine pour un prix réduit une électronique de pré-amplification à faible bruit avec une alimentation phantom, un coupe-bas 80hz 12dB/oct ainsi qu'un superbe petit écran OLED pour l'affichage du niveau audio et du niveau de pile.
Le FEMTO a été conçu pour résister à l'épreuve du temps. Son boitier est fabriqué en aluminium pour un excellent rapport poids/solidité et revêtu d'une peinture à la poudre du plus bel effet. Toutes les informations sur le boitier sont gravées pour une meilleure longévité. Le FEMTO saura procurer à son utilisateur de longues années de service. Le FEMTO est un préamplificateur à haut gain avec une réglage de gain minimal de +10dB.
Poids (sans les piles) : 327g
Dimensions : 95 x 129 x 42mm (l x p x h)
Alimentation : 2 piles 9V type 6LR61
Livré avec câble de sortie ligne stéréo symétrique XLR5 -> 2 x TA3F
Alimentation externe 100-240V recommandée (non incluse) : MEAN WELL GE12I18-P1J
Technical specifications
Input impedance / impédance d'entrée : > 5kohms
Min gain : 10dB
Max gain (Zsource = 50R, Zload =600ohms) : > 64dB
Distorsion : 0.002% < 40dB gain / 0.006% @ 60dB gain
Equivalent input noise EIN (bruit ramnené à l'entrée) : -129.2dBu @ gain max  (Zsource = 200Ohms)
Bandwidth / bande passante (+/- 3 dB) : 15Hz – 20kHz
Max ouput level / niveau de sortie max (Zload = 600R, Vpower = 16V) : +18dBu
Power consumption – (external powering = 18V) : 48V off : 44mA / 48V on + 2 Schoeps CMC6Ug : 82mA
Power consumption – (internal powering ) : 48V off : 31mA / 48V on + 2 Schoeps CMC6Ug : 67mA
External power connector : Switchcraft barrel or Hirose 4 pin connector
User photos
Femto and Sound Devices 663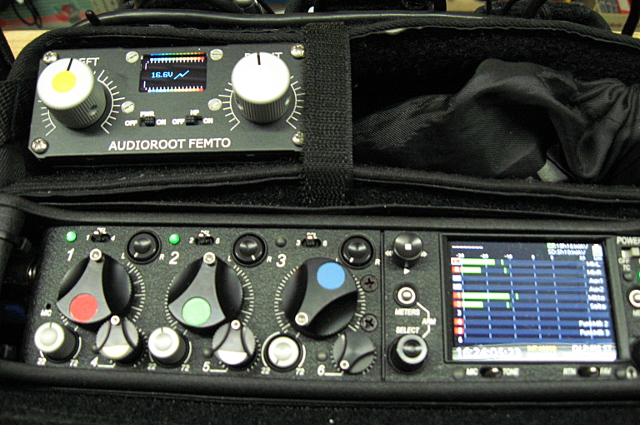 Femto and Sound Devices 744T (Photo courtesy of Fokke van Saane)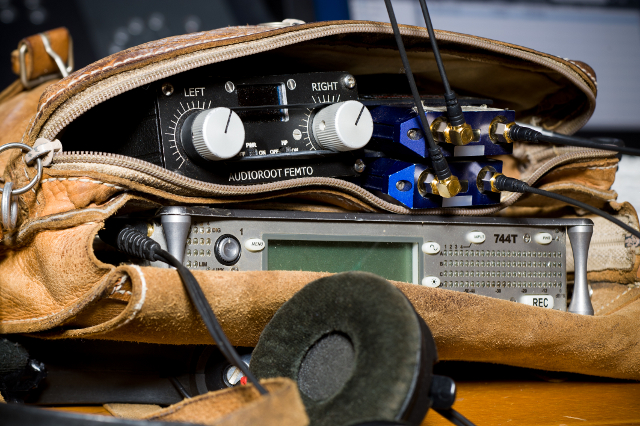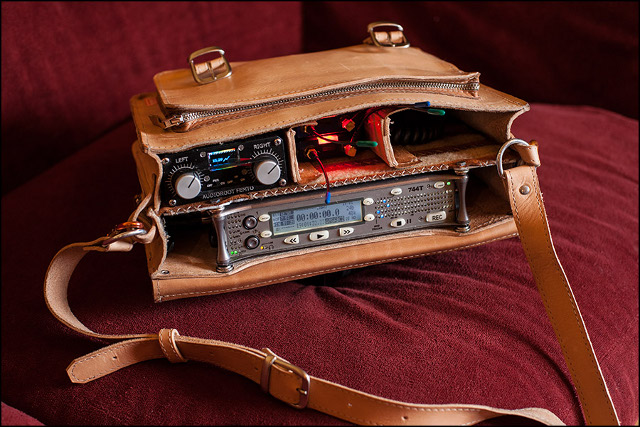 Femto and camera rig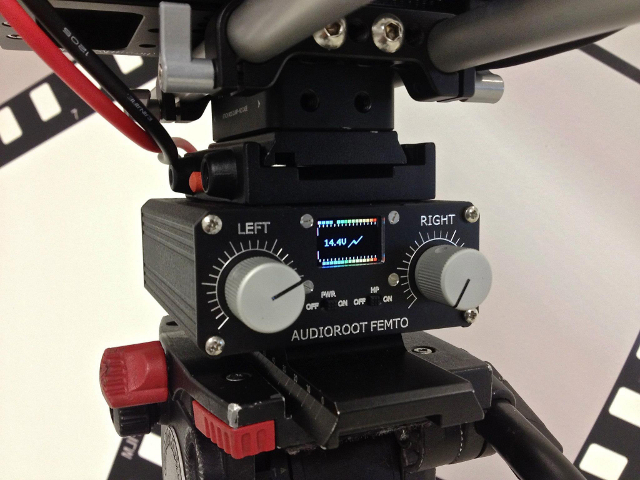 Femto and Zaxcom MAXX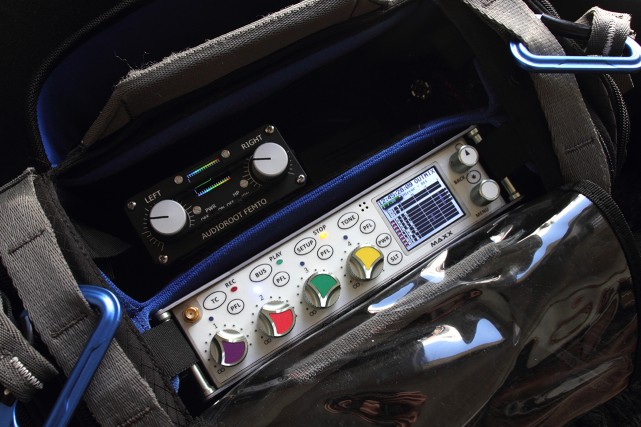 RELATED PRODUCTS :